Stacking Rings
April 24, 2018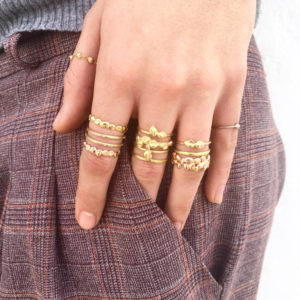 It is the moment to stack your rings! You layer your clothes so why not layer or stack multiple rings across all fingers. Unleash your creativity, mix rings to reflect your style and personality, combining them in whatever way you wish.
When a customer walks into my store wearing her rings, a mix of collectables and heirlooms, she often wants to buy a new ring that will enhance the pieces she has been wearing everyday or even all her life. This often makes her look at her old rings with a completely new eye.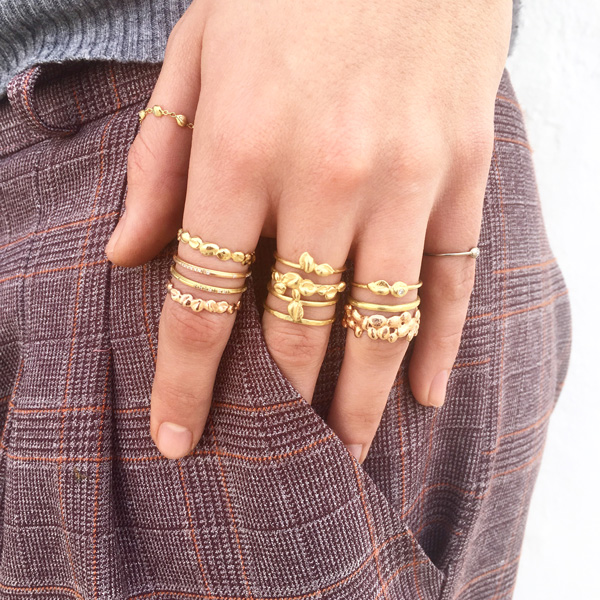 I love the idea of collecting stacking rings at different periods of your life to mark a moment, adding not only beauty but a history to a precious collection.
Unique, hand-melted gold nugget stacking rings and layered necklaces have always been key to every collection I design. If you were to look at a naturally formed nugget from the river you would see a close resemblance to my work. Taking the gold back to the irregular forms of nature so that the essence of the metal remains, is the quintessence of the artistic process for me.
My most recent nugget cluster stacking rings in white, yellow or pink gold and silver fit together aesthetically to tell a story. I love to create a series of important pieces that can be stacked or worn independently, according to your mood. Each hand-crafted stacking ring can be ordered in different colour combinations. Nothing is more beautiful than the contrast of gold worked together with diamonds or subtle coloured precious stones.