The Allure of Sapphires
October in Ibiza is without a doubt my favourite month. The heavy heat of the summer is gone and the weather is simply gorgeous. Blue skies and a gentle breeze are reviving humans and nature alike. The countryside with its distinctive flora and fauna is blooming, and I find myself enchanted by all the dazzling colours. Last night's sunset painted the sky into a glowing shade of bright pink and I could not take my eyes off (do check my Instagram).
The appeal of precious gem stones
I find inspiration everywhere, in every small detail, which I am translating into my emerging new collection. In the Natasha Collis studio we are busy melting gold, playing with ideas, and creating new intricate pieces of art. There is hardly anything more exciting than choosing precious stones for my hand-made jewellery, I could spend hours admiring their beauty and uniqueness.
Sapphires have been my first love ever since I started making precious jewellery some 20 years ago. There is this incredible strength and stamina to them, which is crucial for my work as the techniques I'm using require a certain level of toughness. Yet sapphires are such gentle and soothing gems.
With regards to the stone's properties, sapphires engender self-assurance. It is said that the one who wears sapphire will succeed in doing everything he or she starts. It drives away nervousness and worries, and empowers the wearer to seek out truth, love and life.
I'm always drawn to stones which are a little more unusual, displaying a distinctive character that we may struggle to put into words. Shaping my signature hand-melted 18K gold nuggets is priority when I make a new piece, but choosing the right stones completes my jewellery's unique feel.
The colour spectrum of sapphires is really appealing to me, as is their incredible lustre. We usually think of sapphires as dark blue, but they actually come in a variety of colours such as light blue, violet, pink, yellow and green.
Bespoke jewellery made in Ibiza
For this striking necklace I have sourced the most divine pink and violet sapphires to be set in 18K rose gold. It is such a pleasure to create deeply personal jewellery for my clients that I know will be treasured for a lifetime.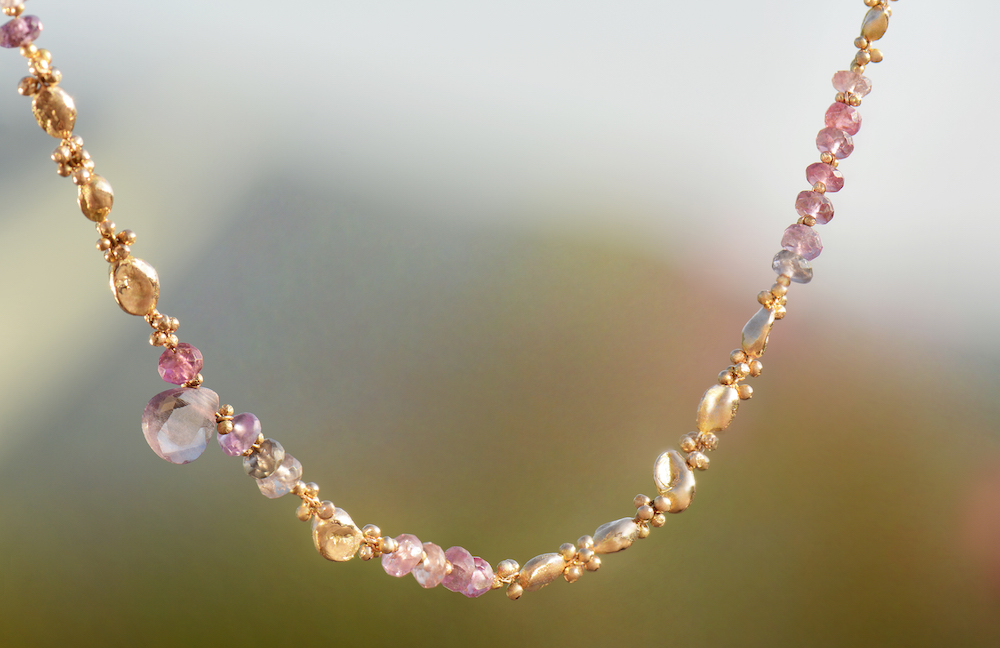 And while I was sourcing precious gemstones for my customer's commissioned necklace, I came across this supremely beautiful pink star sapphire.
One of a kind…
Star sapphires have a long and fascinating history of being highly coveted and prized as very unique gemstones. Their special feature called asterism lends an added mystical element, and many throughout time have felt a special connection to these stones.
I decided to set this precious gem into my hand-melted 18K yellow gold nugget and added a subtle grain-structure around it. The design is effortless to let the stone's magical allure shine. This is a one-of-a-kind ring that I am sure will find its one-of-a kind owner soon!
Classic but oh so cool!
Blue is the colour that most associate with sapphires. Blue Sapphire is said to be an enhancer of insight. It quickens the mind and allows for the wearer to tune into their inner wisdom. These precious gemstones are ideal for bringing forth one's ideas and providing the mental discipline and focus to turn those dreams into reality.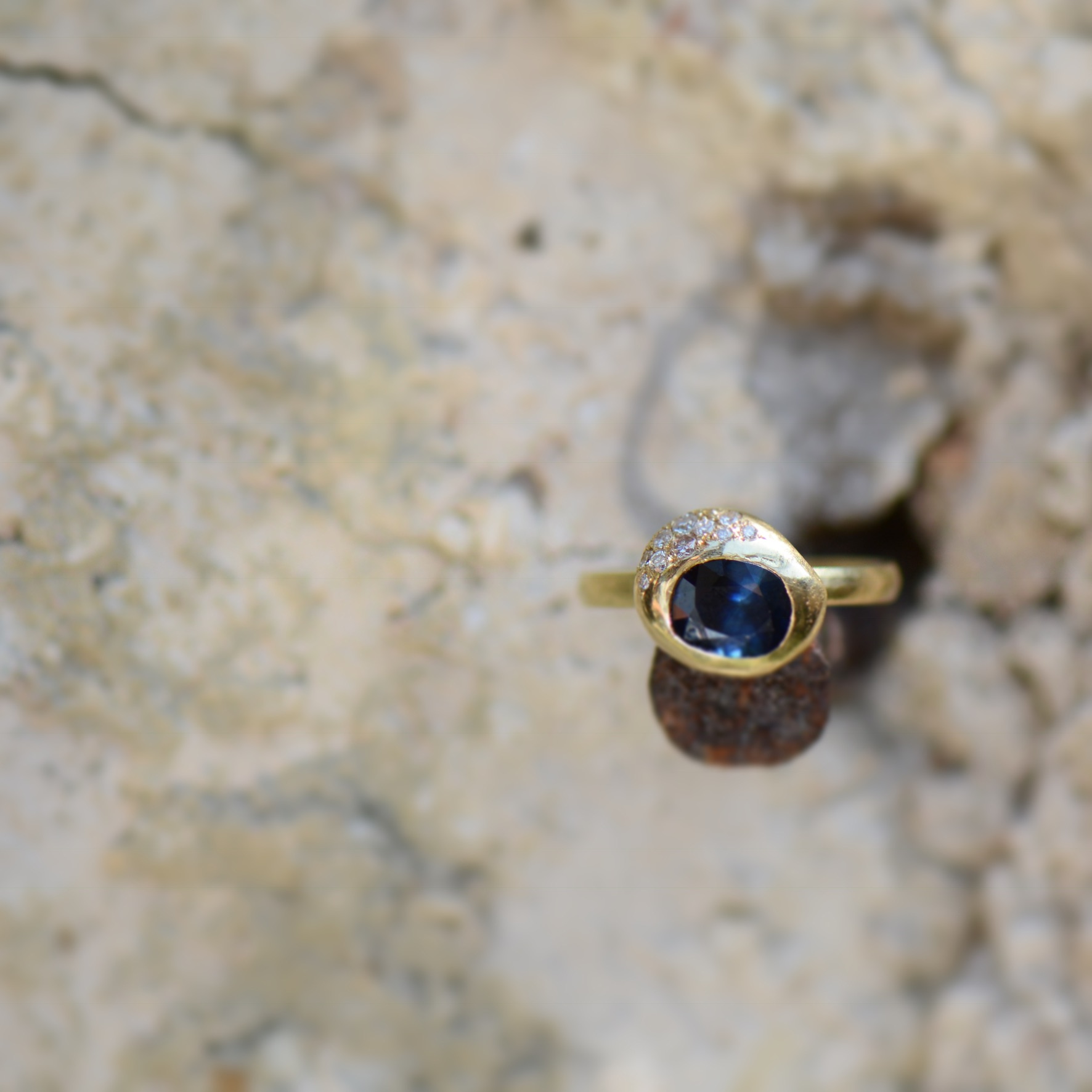 But whether you believe in the properties of gemstones or not, midnight blue sapphires create unarguably the most elegant feel in fine jewellery. I adore how they stand out when paired with 18K yellow or rose gold. Dark blue sapphires always create a timeless, classic look which gives me the freedom to be playful with the design.
I feel incredibly lucky that my work resonates with so many people from all around the globe, and that I can share my love for these delicate works of art with you.
If you happen to visit Ibiza this autumn please do come up to the artisan village of Sant Miquel in the north of the island to find my flagship store and workshop right next to the ancient church – it is such a unique location to showcase my jewellery.
But wherever in the world you are, the new Natasha Collis collection is soon to be released online, and we cannot wait to introduce these precious pieces of fine jewellery in the next newsletter.
Until then, enjoy the magnificent colours of autumn!
With love from Natasha and her team 💛