Time for Delicate Jewellery
June 10, 2019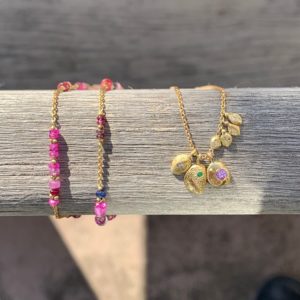 After the winter months, when the pace is slower and the island of Ibiza is mostly inhabited by locals, life begins to bustle with the arrival of Summer, tourists begin to flock to the island and everything is prepared to greet them.
Nature is at its finest. The entire island has been washed and refreshed by the April rains. It becomes powerful, sparkling and blooming with wildflowers. Shades of winter have been replaced by the stunning pink of bougainvillea, the bursts of yellow of wild fennel and the blues of the sky.
All these stunning colours are so inspirational to my creative process. I realise that when I choose the precious stones to integrate with my signature gold hand crafted nuggets I'm naturally influenced by the extraordinary tones of Ibizan nature.
My pink ruby and grey sapphire necklace mirrors the bright shades of bougainvillea and the multi-coloured front to back chain earrings reflect the strong colours of the landscape, lit up by the sun. I'm currently working on a one-of-a-kind ring composed of two handmade 18k gold nuggets complemented with a lilac sapphire, the shade of the wild flowers in the fields.
This is the moment when you should discard thick jumpers and big boots and start wearing lightweight, colourful clothes. The change of wardrobe gives you the opportunity to adopt more delicate jewellery and to layer necklaces and bracelets and enjoy wearing my brightly coloured earrings.
See more: www.natashacollis.com