Never Ending Summer
September 11, 2019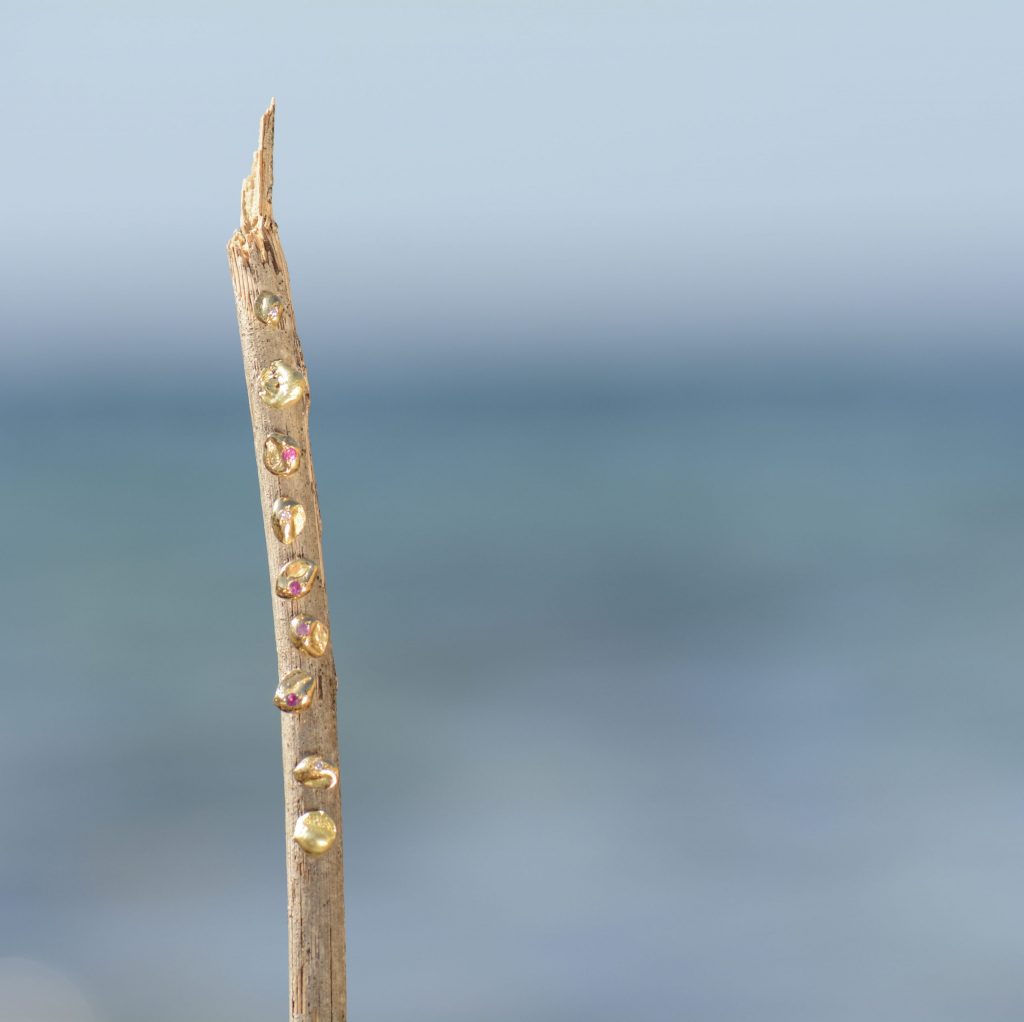 As I'm writing this it's an overcast day in Ibiza, at the beginning of September. And even though it's still pleasantly hot (we're talking 29 degrees), one can definitely feel that the intense heat of the summer is slowly coming to an end. The nights are cooler and the days are getting shorter. Now when I wake up in the morning it's still dark! How did that happen? Where did my summer go? Can we please rewind and do it all again?
Precious memories from Ibiza
I can only imagine what it must feel like to come to Ibiza and spend your summer vacation here – all those precious moments! Those incomparable Ibiza sunsets, warm summer air touching your skin. Late alfresco dining, spending time with family and friends… Memories we want to keep for eternity. Isn't this why we're endlessly taking pictures on our iphones, capturing these exquisite moments? And yet a picture never does it justice, does it?
Timeless…
With my precious jewellery that I design and create in Ibiza, I am hoping to capture these priceless Ibiza memories for you, for eternity. How can you not be inspired by the colours of this beautiful island, and the unique light that changes from one moment to the next?
From light blue and peachy pink Sapphires, to bright pink Rubys and startling green Emeralds. Set in 18K Yellow Gold and paired with my signature hand-melted Gold Nuggets. Each and every piece is unique, just like each and every moment is unique. Timeless and precious.
Wear your memories
As part of my 2019 summer collection I designed these delicate one-of-a-kind, 18K Yellow Gold pendants. They're light and playful, representing those carefree summer days spent on the beach. Gazing out onto the sea and letting the sand run through your fingers, finding this one very special, uniquely shaped pebble stone. The one you want to keep forever, always taking you back to that moment.
One-of-a-kind Fine Jewellery
I have so many of these pebbles, they're a constant source of inspiration. Just like these little stones, you will never find the same piece of jewellery twice in my collection. Everything you see online and in store is made in my workshop in Sant Miquel, a sleepy village in the north of Ibiza. Here my signature 18K Gold Nuggets are shaped individually by hand and merged with the brightest Emeralds, Rubys and Sapphires, reflecting the intensity of high summer.
Or take my Waterfall Black Diamond Pin Earrings set in 18K Yellow Gold, inspired by those breathtaking August night skies. Countless stars, even shooting stars, shining bright like diamonds as you're gazing into infinity. It's overwhelmingly beautiful – and isn't this precisely what wearing precious jewellery should feel like?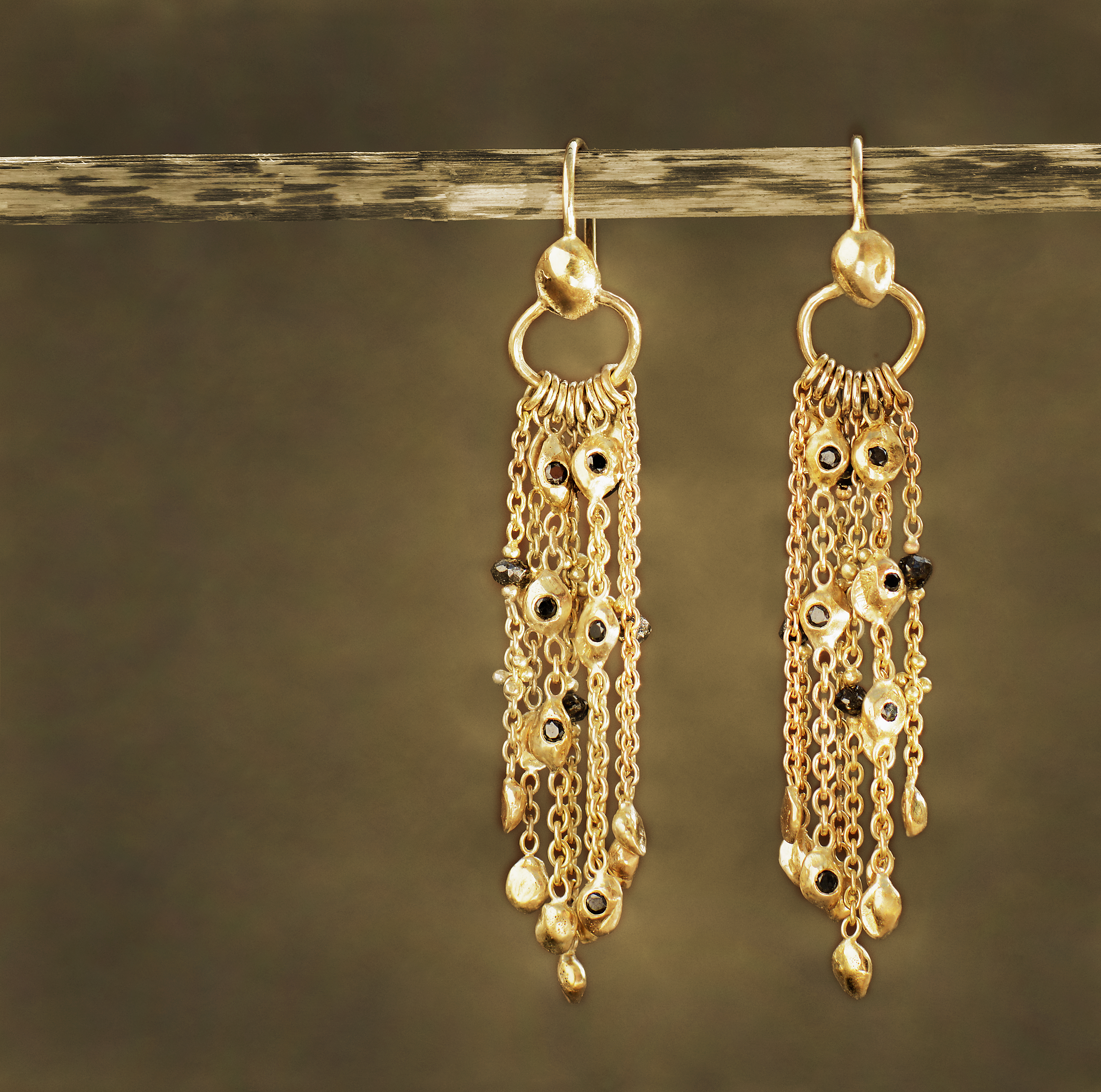 It is out of question that Ibiza casts a magic spell on you, so don't be surprised if you find yourself coming back again and again. I love seeing familiar faces in my store that have been my customers since I first opened 9 years ago. For some, I have designed and made engagement rings, and now they're choosing birthday presents for their little ones. Other customers and friends are coming back each year for a new Nugget Stacking Ring to add to their collection, each ring representing another magnificent summer spent in Ibiza.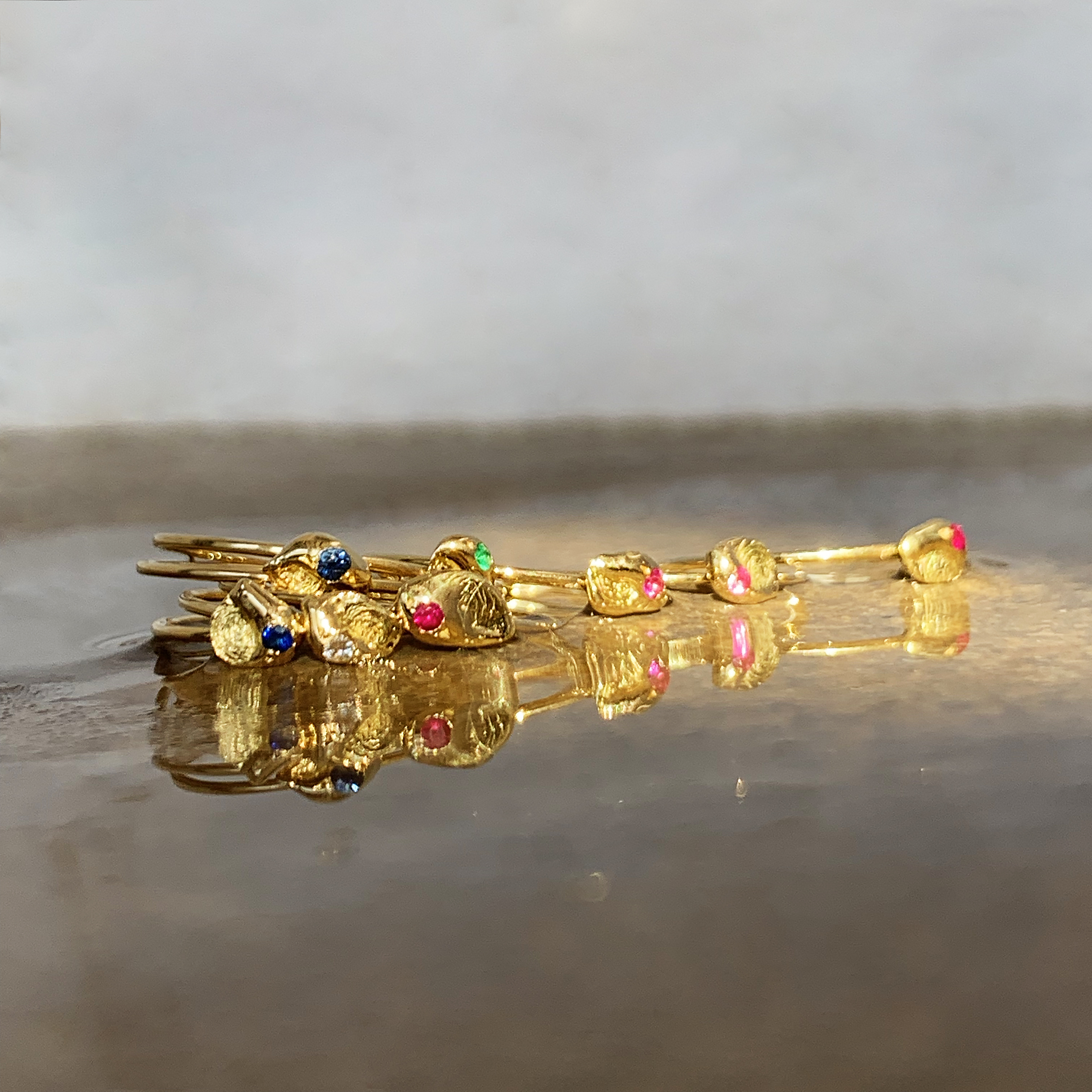 Priceless memories and precious jewellery. Precious jewellery and priceless memories.
For me, they go hand in hand.
The days might be getting shorter, and summer vacations on the Mediterranean island are coming to an end. But it is my wish to keep these unique Ibiza memories alive for you, with my distinctive 18K Gold collection that keeps growing and evolving. Whether you're heading back to London, New York, or Paris. Whether you're back in the city or enjoying Autumn in the country. It is my pride and joy to know that my jewellery will always bring that summer glow back to you.
Made with love in Ibiza.